And THIS is supposed to be a memorial to our most maligned King?
It is the SUPREME INSULT. Just imagine if they put up a monument that looked like this to our dearly beloved Queen Mother, but instead of using marble they used a pile of rusty bedpans with their content still intact?
What on earth happened to decent, attractive statues? Has the 'curse of Emin' taken hold of this country's artistically challenged?
It looks like a heap of junk cobbled together by a drunken chav in a Brixton scrapyard! Or like one of those scenarios where Popeye belts Bluto and sends him through a brick wall!
If the Bishop of Leicester thinks THIS is attractive, then there's little wonder that the English clergy are fast falling down the pan!
He should have gone to Specsavers...but only after he'd checked in somewhere to have his head examined. Let's hope he's better when it comes to same sex marriages, otherwise some poor chap is going to end up being hitched to a lamp-post!
New Richard III sculpture unveiled at Leicester Cathedral
The Bishop of Leicester has described a new sculpture which was unveiled at the opening of Leicester Cathedral's new gardens.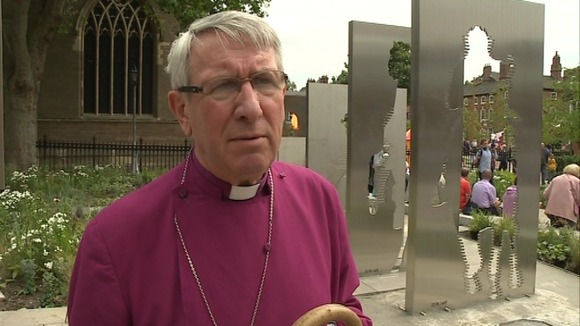 Reverend Tim Stephens, said:
The sculpture comprises steel plates which take us on a journey through the events of that day when Richard III was killed at the battle of Bosworth... We see the silhouette of the king mounted on a horse, falling from his horse, engaged in battle, finally slain and removed from the battlefield.