I think I've heard it all, now! A man from Tennessee wants to have his puppy put to sleep because he says he is GAY? What kind of lunatics do they breed over there? This is taking homophobia to the next level, and believe me, I've know some real poison-patties!
If I were the vet, I'd have gone along with the idea, and then stuck the needle in him.
I think everyone knows my stance on homophobes, racists, child murders, and anyone who is prejudiced towards ethnic minorities, and above all people who kill helpless animals. they should ALL be euthanized. There is nothing more despicable than these crimes.
Follow:
A Tennessee dog owner sent his pet to be euthanized because he suspected the dog was "gay." Fortunately, the pup was later adopted.
A Jackson, Tenn., resident
surrendered his "gay" dog for euthanization
to the Jackson Rabies Control Animal Shelter on Jan. 29 because he saw his male pitbull/American bulldog mix "humping" another male dog, the Examiner reports.
SCROLL FOR PHOTO
The Huffington Post
confirmed
with Jackson Rabies Control, a high-kill shelter, that the dog had been surrendered because his owner believed he was "gay."
Although
animals can be gay
, dogs
mount each other to express dominance
, for play or because of
nervousness/excitement
, Psychology Today notes.
A Facebook campaign was set up to
try and save the "gay" dog
, according to the Atlantic. A Facebook post detailing the troubling situation called for immediate action.
Via
Facebook
:
This guy was signed over to RC, not bc he's mean or bc he tears things up, but because... His owner says he's gay! He hunched another male dog so his owner threw him away bc he refuses to have a "gay" dog! Even if that weren't the most assinine thing I've ever heard, its still discrimination! Don't let this gorgeous dog die bc his owner is ignorant of normal dog behavior! He's in kennel 10L and he WILL be put down tomorrow bc there is no room at the inn!
Luckily, the healthy pup has been saved.
Gawker notes that a woman named Stephanie Fryns, who is affiliated with the animal rescue group
Woof Connections
, said that she
planned to adopt the dog
.
"I am adopting this big boy first thing in the morning," she wrote on the Facebook page for the animal rescue group
Save The Animals Together (S.T.A.T.)
. "He will be neutered/ htwm tested/ and vetted. He will be temperament tested and then places in a rescue verified and approved home."
A Jackson Rabies Control employee confirmed to HuffPost that the dog was adopted on Thursday morning. He had been scheduled to be euthanized at 1:00 p.m., according to the Examiner.
[
h/t Towleroad
for the find.]
UPDATE:
The
rescued dog's name is Elton
, ABC News confirms, and he was saved from euthanization by Fryns, who already owns four dogs. Although Elton has some redness around his ears, Fryns does not believe he was used in dog fights.
"[Elton] was pretty friendly so far," she told ABC News. "He's pretty scared of everything, which is understandable. But he loved the car ride."
PHOTO:
Courtesy of Save The Animals Together (S.T.A.T.) Facebook page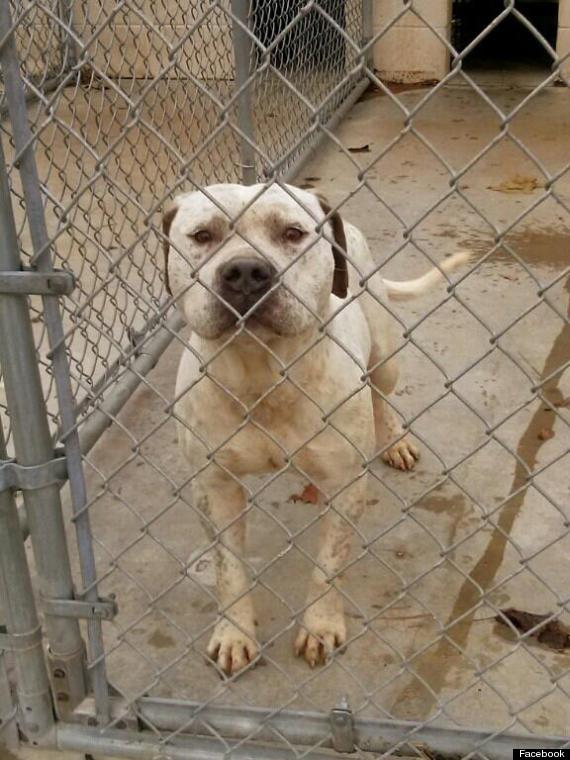 Also on HuffPost:
Loading Slideshow
Though speculation over the true nature of Buddy and Pedro's relationship continues, the African penguins will soon be separated and paired with females for breeding.

A bisexual penguin love triangle? In 2009, Harry and Pepper, two male penguins at the San Francisco Zoo, were a "couple" who even briefly raised a chick together when zookeepers gave them an egg. But Harry eventually left Pepper for Linda.

Roy and Silo, two male Chinstrap penguins, met in 1998 at the water tank in Central Park Zoo. After they eventually raised a chick hatched from another penguin's egg, their "relationship" became the subject of the children's book "And Tango Makes Three."

Germany's Bremerhaven Zoo has been home to several pairs of same-sex penguins. In 2009, Z and Vielpunkt, two male Humboldt penguins at Germany's Bremerhaven Zoo, became the proud new parents of a healthy penguin chick."Another couple threw the egg out of their batch. We picked it up and put it in the nest of the gay penguins," veterinarian Joachim Schöne is <a href="http://latimesblogs.latimes.com/unleashed/2009/06/gay-penguin-dads-in-german-zoo-hatch-chick.html" target="_hplink">quoted as saying</a>.

Ninio was moved to a zoo in Poznan, Poland in hopes he would sire a herd, but the elephant showed a lack of interest in females, and his attitude toward fellow males was described as "affectionate."

As Haaretz reported in 2009, two male vultures (not pictured) named Dashik and Yehuda once engaged in a "fiery romance" at the Jerusalem Biblical Zoo that made headlines in the international media, even building a joint nest. The birds' "relationship" eventually dissolved, when they eventually paired off with females, but, in a surprise twist, those females laid eggs on the same day, which also hatched on the same day.

As<em> Pink News</em> <a href="http://www.pinknews.co.uk/news/articles/2005-410.html/" target="_hplink">is reporting</a>, Carlos and Fernando, two male flamingos at Britain's Slimbridge Wildfowl and Wetlands Trust (not pictured), "came out" as a couple in 2001 and even raised chicks together after they stole eggs from neighboring straight couples.
Contribute to this Story:
Related News On Huffington Post: